I have been bugging the husband to watch Fifty Shades  Darker movie with me especially on the first day. He said we will watch together but not on the first day where the theater is packed with crowds. I also want him to watch with me because it is a different theater and a little far for me to drive, He still said no. I just closed the issue for now.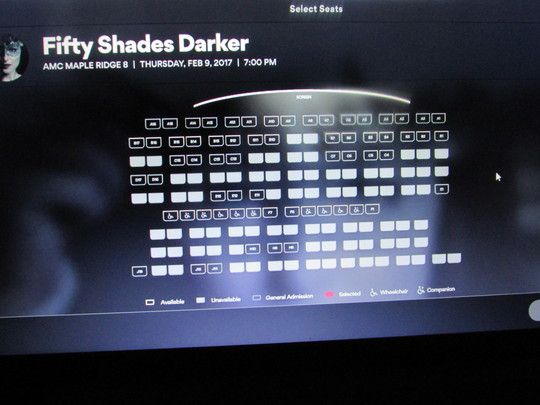 I was very happy and excited that finally it is also showing to the theater that I watched movie. It is near my parent's in-laws area,  The drive is easy if it is not snowing and much closer. I told the husband that time I will watch the movie on the first day it is showing by myself. He said absolutely not and he will watch with me.
I booked two movie tickets together. Each ticket cost $12.49 and am glad hubby paid it for me too. When I first booked the tickets, I was the first person who bought the tickets. Now the sittings starts to fill-up. No doubt in my mind that soon, all the seats will be occupied. I loved this movie theater because you can pick your own setting arrangement. The chairs recline. It is a very clean movie theater to.
I cannot wait for the movie Fifty Shades Darker which stars Dakota Johnson and Jamie Dornan from the famous author of the book of E L James.
Is it February yet?