I admit I hate surprises. Waiting is killing me. How about you? Do you like surprises too?
One of my favorite book author ALEXANDRA 1 told me that she sent me something in the mail. I was very surprise when she left me a message in my Facebook. I did not expect that even. She told me that I won one of her giveaways. She said that she is true to her words. I thought that when she sent me signed bookmarks. Those are enough for a fan like me to adore her even more.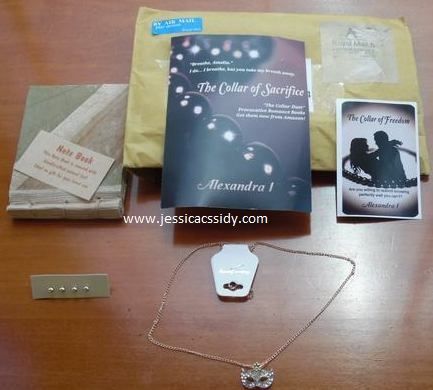 Thank you so much Alexandra 1 from UK with Love for this surprise gift
I received the surprise she sent me a week after she mailed it. The package come from United Kingdom with love. I want to say thank you so much ALEXANDRA 1 for the package. I love them all. I do appreciated your kindness so much.
I received a notebook which is made from recycled real leaves. I received signed swags, a postage card and a sticker. I also received fashion jewelry like earrings and the mask necklace. The mask necklace is so beautiful.
I am indeed very surprise with my gifts. How about you? Have you meet ALEXANDRA 1 yet? She is an erotica writer. You can read her books in Amazon, Facebook or follow her in Twitter.