Police Chief David O'Callaghan and Chelsea Adams' wedding day is fast approaching. Unfortunately, at the last minute, David discovers that there is one small problem to be taken care of before he can tie the knot—divorce his first wife!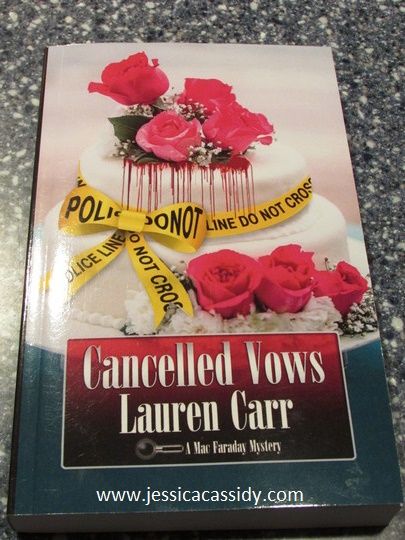 Lauren Carr takes fans of the Mac Faraday mysteries to the Big Apple in this nail biting adventure. In Cancelled Vows, David, Mac, and Gnarly, too, rush to New York City to dissolve David's marriage to an old girlfriend—and he's got five days to get it done. When murder throws up a road block, it is up to David's best man, Mac Faraday, and Gnarly, K9-in-waiting, to sort through the clues to get David to the church in time!
I rated this book 5 *****'s 
Each chapter is a heart thumping to read
Miss Lauren Carr did amazing job in this book Cancelled Vows. I LOVED how the cover is. It looks so pretty. It is more prettier when you read the book and found out the mystery.
Each chapter is a heart thumping to rad. There is never a dull moment when you read this author's writing. I have been a new fan since I read my first book of her. Since then I am looking forward to read her writings.
I LOVED that there is a list of characters that help you who they are and what part they have in the story. It helps a lot and you are closer to solve the mystery.
Cancelled Vows teaches us unexpected problems. It also teaches us that LOVE is mysterious. Sometimes we solving a problem leads us to who we really are and why we CANCELLED VOWS to lead us to our true love.
​Buy the book here:  Amazon
Author's Bio: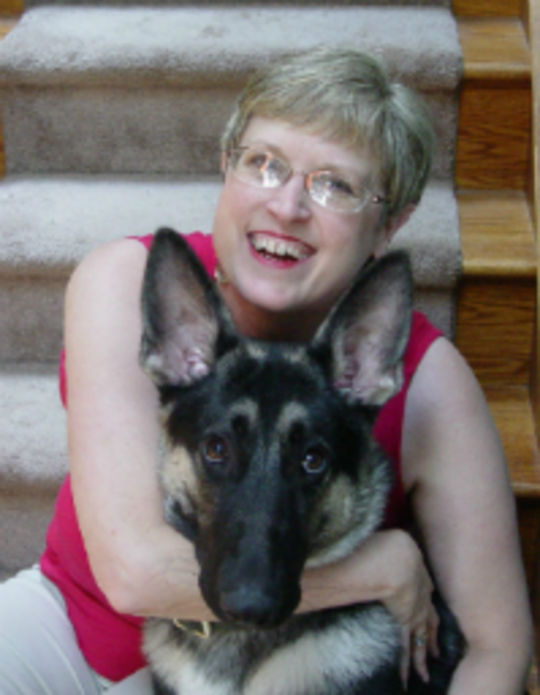 Lauren Carr is the international best-selling author of the Mac Faraday and Lovers in Crime Mysteries and the Thorny Rose Mysteries. Lauren is a popular speaker who has made appearances at schools, youth groups, and on author panels at conventions. She also passes on what she has learned in her years of writing and publishing by conducting workshops and teaching in community education classes. She lives with her husband, son, and four dogs (including the real live Gnarly!) on a mountain in Harpers Ferry, WV.
Connect with the author:  Website  ~  Twitter  ~   Facebook
Cancelled Vows
By Lauren Carr
Book Tour Interview Five – Career in Writing
Not only are you a best-selling author, but you are also a wife, mother to a teenager, and you have four dogs. Wow. How do you balance your time?
I don't. If I didn't have my husband, nothing would get done. He does the errands and grocery shopping, so that I am able to stay home.  The important thing is keeping on a schedule and planning out what deadlines have to be met. I'll admit that half the time I don't meet a deadline, but the important ones—like interviews—I do meet.
Yes, I do.  I always manage to squeeze in at least a couple of hours to work on a book. If I don't have time to write during the actual day, I will write in the evening, after getting everything else that needs completed done.
What do you think is hardest aspect of writing a book?
Timing. I write full time. However, even so, it is difficult because when I really get going at a certain spot in a storyline and the words are flowing freely, reality will come crashing in. My son gets home from school and I need to stop in the middle of a conversation. Or I'm in the middle of a pertinent scene or shootout and suddenly, it's six o'clock in the evening, my family is threatening to faint from hunger, I've taken nothing out of the freezer to thaw for dinner and I have people bleeding out on the streets.
Seriously, not only is it frustrating, but it is those types of interruptions that can cause the type of mistakes in continuity that readers may pick up after the book is released. For example, in Kill and Run, in one scene, one reader noticed that Jessica sat down twice during a conversation without standing up before sitting down the second time.
I have no choice but to blame my family for picking up this nasty habit called eating. It wouldn't be so bad if they knew how to cook.
Most budding writers struggle to finish writing a book, publish it, and gain a readership. What advice would you offer to them?
Gaining a readership does not happen overnight. It happens over time. In talking to budding writers, I find that an adjustment in attitude has a lot to do with it. Authors who I know are making money with their writing consider it a job—granted it is a job they love—but it is a job. They will work not just on writing their books, but they will be online promoting it every single day—even when it's not fun and they would rather be writing a sexy love scene—even when they feel like they aren't getting anywhere—they will continue plugging away at it. Writers who break through will pursue book promotion ideas, read blogs, talk to other writers to find out what works and what doesn't work to expand their readership—even when they would rather be writing—all because they know it is part of their job.
How far out do you plan your books and plots?  That is, do you already have the main idea for several coming books in each series, or do you try not to do that?
After years, I now finally have a system. I am usually thinking about the next book while working on the current one. By the time I send the current book off to the editor, I am ready to start writing the next book.
The most important thing with every one of my books is the murder mystery—the case the characters are working on. The subplot of what goes on with the characters is secondary—surprisingly that is very often dictated by the case. For example, in Kill and Run, the book starts out with Cameron's inability to handle weddings and funerals. However, because of what happens with the murder case, she has a major breakthrough and her character ended up growing in the end.
But then also, I am working on books that just aren't quite there yet—simply because I don't have the plot worked out yet. I've had one Mac Faraday Mystery in mind for well over a year and just recently had a break through on the plot. That will be my November release, Murder for the Holidays.
Do you ever get writer's block? Doesn't sound like it.
Actually, I have had writer's block. Between drafts of It's Murder, My Son, the first Mac Faraday Mystery, I spent a year staring at my laptop. I was completely frozen.
At that time, I had left my publisher because they did not have a paperback division. It is very hard to sell a $26 hardback when you're an unknown. Ebooks were still being discovered back in 2010. Getting rejection after rejection, my search for a publisher specializing in mass paperbacks was going nowhere.
After a full year of staring at my laptop, I threw up my hands and walked away. I actually announced to my family that I was giving up writing for good. I spent the next month doing volunteer work, going to lunch, and working out at the gym.
Suddenly, I was back at the laptop rewriting It's Murder, My Son. Of course, my family reminded me that I had said I was giving up writing for good, to which I responded that I was going to return to writing, but this time, I was going to self-publish. If my books sold—fine. If not, that was okay because I was going to write what I wanted to write and for no one else.
Ironically, a month later I received an offer from a traditional publisher. I turned them down. It's Murder, My Son has been one of my most popular books, making it to #1 in mysteries on Amazon.
Since that time, I have never had any trouble writing—except for that time Gnarly drooled all over my laptop and it shorted out.
What was the secret to getting over writers block?
American poet William Stafford offers this advice to poets who suffer from Writer's Block: "There is no such thing as writer's block for writers whose standards are low enough."
This sounds terrible at first. "What? I'm supposed to write junk? I need to write the great American Novel! I'm better than that!" No, Stafford is not encouraging writers to produce garbage. He is suggesting, however, that it's easy to take yourself too seriously.
When I walked away, when I stopped trying to impress literary agents and publishers and decided to write what I want for myself, my writers block went away. Still, sixteen books later, I write what I want to write.
What project are you working on now?
Right now I'm working on Killer in the Band, the Lovers in Crime mystery coming out at the end of April, readers will get to know more about Joshua Thornton Jr (J.J.), Murphy's identical twin brother. J.J. has graduated at the top of his class from law school and is returning home to spend the summer studying for the bar exam. However, to the Thornton's shock and dismay, J.J. decides to move in with Suellen Russell, a lovely widow twice his age. The move brings long buried tensions between the father and son to the surface. When a brutal killer strikes, the father and son must set all differences aside to solve the crime before J.J. ends up in the crosshairs of a murderer.
Disclosure:
I received a paperback copy of the book to read. My review is 100% honestly mine.