I keep on asking my hubby to buy me my bookshelf for my books. I used to keep my books in my kids bookshelves. I want my own. We went to the store. He does not like the ones that are sale. He said it looks cheap. Instead he wants to make me my own bookshelves. He asks me where do I want to put it. I want near the ceiling. Hubby said it is way too high for me to reach my books.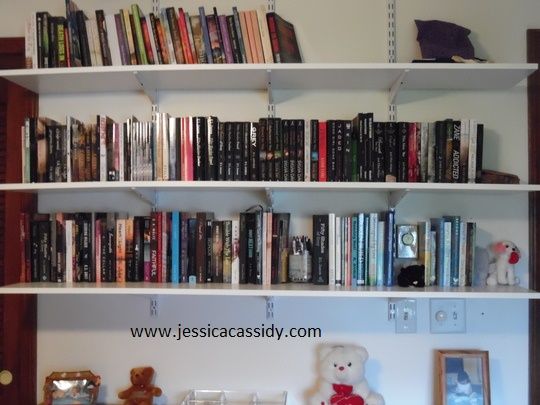 What he did was remove the mirror on my dresser. He said we do not use that mirror because we have two in our bathroom. He removed the mirror and build my bookshelves. It is a perfect spot. It is not in the way. I am so happy. Finally I have my own bookshelves where I can keep all my books. He built three shelves. It is almost full of books already.
The fist shelves are all the signed books that I won from the giveaway. Also books that were signed that I reviewed from the book club. The second shelves are books that I bought. The third shelves are books that I reviewed and not signed. I am so happy that my books are safe, protected and displayed beautiful in our room.
Hubby spent more money if we buy the ones in the store. I loved this the most because he built it for me. I told him that it is my best birthday and Christmas gifts. He just smiled and glad that he made me happy.