On the heels of her last mystery, Elisabeth's new patient is more than meets the eye, and unraveling his secrets will throw her team into a desert storm of double agents and religious extremists.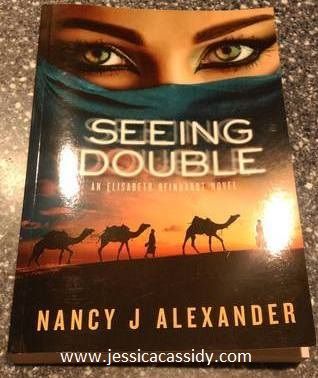 ​"A chill ran up her spine, triggering an alarm that spread through her system. Her eyes studied him as his eyes studied her. In the recesses of her mind, a fragment of a memory tingled…a tiny blip from long ago. An image spiraled, then vanished. There was something about this young man, this Ari Ben Aviv. There was something about him she couldn't pinpoint."
On the heels of her last mystery, Elisabeth's new patient is more than meets the eye, and unraveling his secrets will throw her team into a desert storm of double agents and religious extremists. All that stands between love and war are two families, two brothers, and two conflicting versions of the truth.
I rated this book 4 ****'s 
Will loyalties break the pact of friendship? 
 
This book is so intriguing especially with our current situations that deal with Muslim and their kind. Though I admit not all Muslims are bad. My big half sisters and brother were Muslim. My sisters both escape from their traditions, customs and lives normal life. 
 
It is fascinating to read about the pact of friendships and their histories. All of them were successful in there chosen careers. Their loyalties are tempted when one relative member was kidnapped.  
 
This book is hard to put it down just like the first book that I read from the author. There are many characters in this story but so different and so unique to read. I liked the setting. My favorite character is Elisabeth Reinhardt. She is very strong, fearless and wiling to sacrifice her life to solve the mysteries. 
 
This book has no dull moments. It will keep you entertained until the last page. I highly recommend it if you love to read thriller.
Buy the Book: 
Meet the Author:
​Love of the mystery/thriller genre combines with psychotherapy training and experience to produce an emotionally supercharged dramatic novel. Nancy Alexander has devoted much of her professional life to helping survivors of childhood trauma; their distress has been ingrained and works to create characters who give voice to their plight. To analyze the evil minds that prey on others and the intricacies of law enforcers who pursue them seemed a natural interlacing of professional, literary and creative interests.
Connect with the author: Website ~ Twitter ~ Facebook
Interview with Nancy J Alexander:
If you could put yourself as a character in your book, who would you be?
In Seeing Double, I would be Hadara Eiliat. Hadara is a strong, determined, intelligent woman, who has dedicated her life to the survival of the State of Israel and functions as a key member of the Mossad. She is wise beyond her years, loves her family, who are fascinating individuals in their own right, and lives her life swathed in mystery, danger and spontaneous decision-making. She can be a leader, a seductress or a fighter but she adheres to a strong moral compass and is always complicated and interesting.
What makes your book different from others in the genre?
I bring a deeply rooted feminine, psychological and value-driven point of view to everything I see and write. As a social advocate, I value fairness and justice, I believe in fighting for the underdog and speaking truth to abuse of power in all forms. My books are different from 'run of the mill' spy or mystery novels because they are not just about action-based plots but present complex well-developed characters who carry their conflicts, beliefs and personal dilemmas into and throughout the plot and sub-plots.
Another point of difference is language. I am fascinated by words and crave unique means of self-expression. I want my novels to be refreshing and enriching, perhaps even challenging. I want to encourage readers to think, feel and experience not simple to read. Helping readers visualize the world my characters occupy, through language and description and in the process perhaps to introduce new ideas or different ways of looking at old ideas is why I do what I do. I am fundamentally a communicator, an agent of change. It is my hope that my novels not only entertain but also connect.
Is there a specific ritualistic thing you do during your writing time?
While I wouldn't call it a ritual, one of the things I usually do is review my chapter headings. I always come up with titles for my chapters that capture the essence of what that chapter will contain. I write the chapter title before I write the chapter so the title actually becomes something of a 'writer's guide' for me. I review the headings and probably skim recent chapters to get myself on board with the progress of the book before I begin to write.
How long have you been writing?
I started writing novels about 5 years ago. My first book, Relentless, which is the first book in the Elisabeth Reinhardt series, started out as closely paralleling one of my patient's stories but after the first few words, the story veered off in another direction. I found that I loved writing and since that time I have written Seeing Double, Elisabeth, a novella and Twisted Realms, which is due out by summer. I am currently working on my next novel, Sun Runner. In addition, I have written many animal short stories and a memoir, not yet published.
Do you have another profession besides writing?
Yes, I am a psychotherapist. Throughout my adult life, working in inpatient and outpatient settings, I have treated individuals with a vast array of psychiatric problems. My interest in and awareness of the human mind influences everything I perceive and write. Just as an artist will automatically perceive color, shape and form, so I perceive personality traits, defenses and symptoms. As such my characters are deep, rich and emotionally complex fully alive in their roles not simply adjuncts to plot or action.