Book Description:
The Indian Queen would risk torture and worse to keep her secrets from these barbarians in suits of metal and their search for cities of gold. They never found the gold. Empires rose; empires fell, the centuries passed. Legend became fireside myths, but no treasure was ever found. Yet, among the grey-green drapes of wisteria and wild jasmine along the misty shrouded lowlands of bayous and marshes of the Westo River, the folktales persist.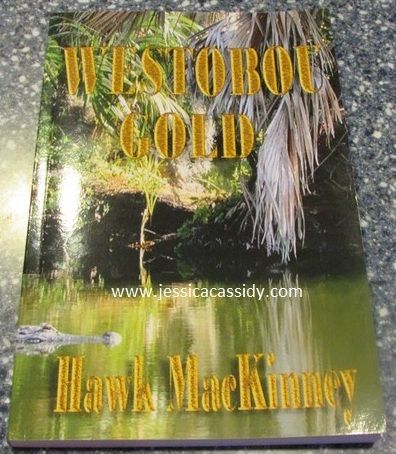 In the lazed creep of a near-tropical dawn lit the pungent Turkish coffee permeates Moccasin Hollow. Beyond the kitchen door Lucky, Craige Ingram's German shepherd gnaws a favorite bone. Looted burial mounds seem a world away until plundered mounds on Moccasin Hollow land brings amateur archaeologist PI Craige Ingram into the cross-hairs of kidnapping. Stealthy hideaways are concealed in old colonial brick-lined river grottoes beneath the big house of Ardochy plantation. Sex-tape underage blackmail and thrill killings on federal land spur a medical examiner's preliminary postmortem to more than a hired cleaner's quickie cover-up passed off as drug deals gone sour. Greed tangles a witch's pigswill of illicit affairs and murder-to-hide-murder. Shady investigators and shadier politics stir an unexpected concoction that threatens the lives of those at Moccasin Hollow in a spiteful plot against ex-SEAL Craige Ingram and the woman he loves.
I rated this book 5 *****'s 
I am blown away with this book 
 
The story started so slow for me. I told myself that I will keep reading until I am on that chapter where my mind will blown me away. I was not wrong and it did. 
 
I never see it coming until the last page. It was epic. I so loved Craige and his smartness to solve the crime. I so loved his dog as well. 
Suspense is my second favorite genre aside from contemporary romance. The twist always keep me jumpy on the couches while reading.  This book has the everything you are looking for a suspense book. Though some scenes of the book is too brutal for me. It made me sick to my stomach but it also add to the story. There is always a mole and I never expect that to happen. It is so good. 
 
This book is so good. My very first time to read the author's book. I enjoyed his writings. I am looking forward to read more of his books.
Buy the Book:  Amazon  ~  Barnes & Noble
Author's Bio:
Internationally acclaimed author and public speaker, Hawk MacKinney began writing mysteries for his school newspapers. He served in the US Navy Reserve for over 20 years, and was a tenured faculty member at several state medical facilities, teaching postgraduate courses in both the United States and Jerusalem, Israel. Since retiring Hawk has authored several novels that have received national and international recognition. Moccasin Trace, a historical novel, was nominated for the prestigious Michael Shaara Award for Excellence in Civil War Fiction and the Writers Notes Book Award. The Cairns of Sainctuarie, his science fiction series, includes The Bleikovat Event and The Missing Planets, with a third book in the works. Hawk's latest project focuses on The Moccasin Hollow Mystery Series. Book 1 in the series, Hidden Chamber of Death, was released early 2016.
Connect with the author:  Website
Author interview
What advice would you give budding writers?
Not advice so much as examples set by colleagues and professionals I respect/trust. If you enjoy writing…don't talk about it…WRITE! No matter the so-called genre; a writer is one who sits alone in a secluded room (read that as "comfortable environment"), wastes a lot of paper, and doesn't know if outside it's sunshine or moonlight. A writer either makes up tales or writes about facts, changing the names of the guilty to protect the innocent. Whatever it's called—fiction or nonfiction, payback or creative inspiration, IT's fun. Don't quit AND save everything. The world is full of people who say "no", but as long as you don't say no to the person in the mirror, you're fine. One other caveat that way too many stumble on. So you've written a whatever with a cover and it has been published. Don't sit on the front steps and count the cars going by expecting the world to rush to your doorstep wanting to buy your book. This is when the real work of marketing begins. Work only with those you trust, whose word is their bond and they do what they promise.
Do you snack while writing? Favorite snack?
With no bilge-water sludge coffee after 9:30a…hot tea and a seldom no-salt cracker which tastes like cardboard. Favorite snacks are loaded with sugar and pork fat or sizzlin' hot, deep-fried fatback…deep-fried anything. Beckoning flavors that I haven't nibbled in more than 10 years. Dietary habits and indiscretions of the past catching up with me, BUT I do miss those wonderful-smellin' "Southron" flavors.
In today's tech savvy world, most writers use a computer or laptop. Have you ever written parts of your book on paper?
Pencil and paper, keyboard and monitor, notepad and airport…they're words for tools. It's like a creative talent…musical instrument, piano, tumbling numbers-values-equations in a physicist's thoughts…it's not our talents/gifts, it's what we do with them that matter. First drafts are hand-scribbled hardcopy on whatever is at hand. Editing…for Westobou Gold took more than 10-15 manuscript edits/rewrites…that's where the computer tool comes in handy. If a writer isn't careful with his time, computers can be seductive time-wasters, but they are a nice tool.
How long have you been writing?
Since those evenings my grandmother or mother sat on the porch swing or front stoop; spun tales of stars while we counted lightnin' bugs and listened to great greasy steel and iron of railroad freights and passenger trains thundering through the valley, whistlin' their clang of toots and longer steaming streamers.
Have you ever been to the many places you use in your settings?
South Carolina, Georgia, Colorado, California are just a few of the states of the lower 48, Scotland, England, Israel…vacationed/lived in most all of them. The historical romance is set primarily in SC and GA; those settings still exist…most folks thereabouts know nothing of the secrets/skullduggery lurking in police reports…that's a ditto for Westobou Gold.
Where do you get inspiration for your stories?
I have no idea. I keep a notepad handy a.m., p.m., bedtime, the middle of a Nighthorse Technicolor dream…out of the blue…the name of a character…a setting, like Ardochy in Westobou Gold…a plot line. When it hits, it hits, and I can hardly wait to put it together.
Are your characters based on/inspired from real people?
All of them…people-watching can be an addictive habit…sometimes embarrassing, but it yields a wonder of detail. Animals in a glut of zoos; in airports, restaurants, malls or shopping centers, rest stops, freeway drivers with their "smart" phones, driving with their feet. Anywhere one can observe Pavlovian behavior that often has to be cleaned up before painting murder and mayhem with words because reality is often unexpected WAY beyond sordid X-rated.
What is the last great book you've read?
Boots on the Ground. Nonfiction, gruff gritty sweaty tears, sordid, sad success of some of our finest special forces. We ALL owe them for putting gut-deep fear into the sordid madness of terrorists using religions to grab power, as well as having to deal with the hog pen stink of cover-ups by the higher-ups…military and civilian.
Full descriptive videos of each title released in The Moccasin Hollow Mystery Series and sci-fi The Cairns of Sainctuarie Series are on the website above with direct video links below.
Hidden Chamber of Death: https://youtu.be/LClbrwyQGhM
Bleikovat Event: https://youtu.be/-m-H8pfoh-A
Missing Planets: https://youtu.be/tLOOHlQ3IYs
Moccasin Trace: https://youtu.be/OvV8gqls688