Dreaming Sophia is a magical look into Italy, language, art, and culture. It is a story about turning dreams into reality and learning to walk the fine line between fact and fantasy. When tragedy strikes, Sophia finds herself alone in the world, without direction and fearful of loving again. With only her vivid imagination to guide her, she begins a journey that will take her from the vineyards in Sonoma, California to a grad school in Philadelphia and, eventually, to Italy: Florence, Lucca, Rome, Verona, Venice, and Val d'Orcia.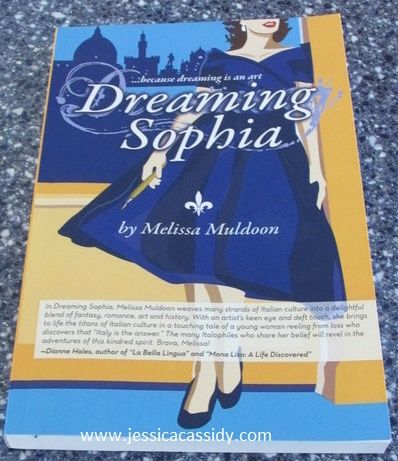 ​Through dreamlike encounters, Sophia meets Italian personalities—princes, poets, duchesses, artists, and film stars— who give her advice to help put her life back together. Following a path that takes her from grief to joy, she discovers the source of her creativity and learns to love again, turning her dreams into reality.
 I rated this book 4 ****'s 
What a very inspirational book to read
I am not an artist but Dreaming Sophia is such a very inspirational book to read. My daughter K will love reading this book when she is older enough. Just like Sophia, she also loves to draw anything that interest or inspired her.
Reading this book is so educational. You also traveled to Italy and learned new things about this very historic country. You also learned Italian words which until now is hard for me to understand. The book is slow at first but the last three chapters were my favorite to read. I loved the relationship of Lorenzo and Sophia. It is slow at first but it is worth the wait.
Dreaming Sophia tackles every artist's beginning and stardom. I also loved how Sophia's parents loved her and never stop her dreams to come true. It is such a sweet book about family and dreams. Dreams will come true when you never stop chasing it.
Italy is in my bucket list. One day I can crash that on my list.
Buy the Book:  
Author's Bio:
Melissa Muldoon is the Studentessa Matta-the crazy linguist! In Italian, "matta" means "crazy" or "impassioned". Melissa has a B.A. in fine arts, art history and European history from Knox College, a liberal arts college in Galesburg, Illinois, as well as a master's degree in art history from the University of Illinois at Champaign-Urbana. She has also studied painting and art history in Florence.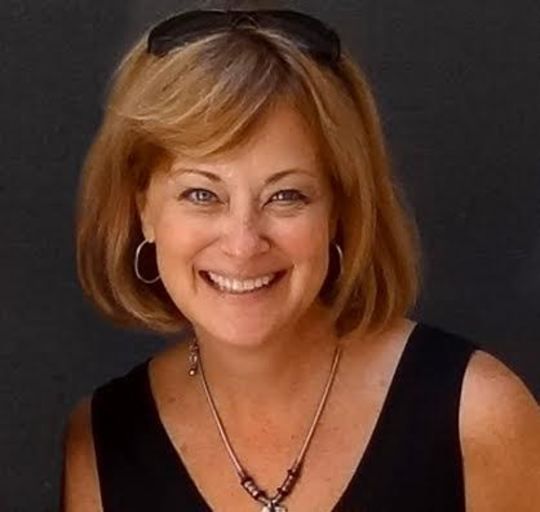 Melissa promotes the study of Italian language and culture through her dual-language blog, Studentessa Matta (studentessamatta.com). Melissa began the Matta blog to improve her command of the language and to connect with other language learners. It has since grown to include a podcast, "Tutti Matti per l'Italiano" and the Studentessa Matta YouTube channel. Melissa also created Matta Italian Language Immersion Tours, which she co-leads with Italian partners in Italy.
Dreaming Sophia is Melissa's first novel. It is a fanciful look at art history and Italian language and culture, but it is also the culmination of personal stories and insights resulting from her experiences living in Italy, as well as her involvement and familiarity with the Italian language, painting, and art history.
As a student, Melissa lived in Florence with an Italian family. She studied art history and painting and took beginner Italian classes. When she returned home, she threw away her Italian dictionary, assuming she'd never need it again but after launching a successful design career and starting a family, she realized something was missing in her life. That "thing" was the connection she had made with Italy and the friends who live there. Living in Florence was indeed a life-changing event! Wanting to reconnect with Italy, she decided to start learning the language again from scratch. As if indeed possessed by an Italian muse, she bought a new Italian dictionary and began her journey to fluency-a path that has led her back to Italy many times and enriched her life in countless ways.
Now, many dictionaries and grammar books later, she dedicates her time to promoting Italian language studies, further travels in Italy, and sharing her stories and insights about Italy with others. When Melissa is not traveling in Italy, she lives in the San Francisco Bay Area. She is married and has three boys and two beagles.
Melissa designed and illustrated the cover art for Dreaming Sophia. She also designed the Dreaming Sophia website and created the character illustrations that can be found in the book and on the Dreaming Sophia websites.
Connect with the Author:
​Website  ~ Twitter ~ Facebook ~ Youtube ~ Pinterest
What are some of the themes in Dreaming Sophia?
Several themes emerged as I began developing the plot for "Dreaming Sophia." One of the major premises of the book, and an important reason for writing it was to weave together fact and fiction in a fanciful creative way, to bring to life the titans of Italian culture, language, and art.
The story takes you on a journey from the vineyards of Sonoma California to Florence, Fiesole, Lucca, Rome, Verona, and Venice. Along the way, readers will discover more about Italy, popular legends and illuminating anecdotes, film, music, and food. They will also learn a bit of Italian to boot!
Other themes include developing one's inner confidence and staying true to one's personal goals and finding the balance between fantasy and reality. Sophia, the main character at the beginning of the book, suffers several setbacks, emotionally and artistically. Tragedy blindsides her, and she must draw upon her inner creative resources and learn how to recover. She channels her Italian muses and remembers how to be true to her artistic nature, finding the confidence to follow her heart to Italy. Once in Italy, she is faced with a whole new set of realities and must learn to adapt to a new country and culture as well as a new language.
Sophia's journey is about turning her dreams into reality, but it is also about finding a balance between fantasia—fantasy and realtà—reality. Sophia Loren the actress, for whom the main character is named, knew the importance of finding this balance. She grew up in a time of war, famine and poverty to become a famous movie star. La Loren knew how to imagine and visualize a better life for herself. She knew that una favola—fairy tale loses its magia—magic without real life and that the opposite is also true. The most beautiful thing in life is to learn how to walk between the two—trovare un'equilibrio tra fantasia e realtà.
My character learns to walk this fine line between fantasy and fiction and does indeed move to Italy to pursue a career as an artist. It seems her dreams have come true. But once she arrives in Italy, she is faced with a new set of realities. Not everything goes liscio come l'olio—smooth as oil. Sophia must adapt to a new culture, a new language and life with an Italian family. She also must navigate the complexities of a new social network as she also starts to date Italian men. More perplexing than that, she must learn how to survive the labyrinth that is Italian bureaucracy as well as succeed as an artist in a foreign country. In Italian, there is another idiom: Hai voluto la bicicletta, adesso pedala! You wanted the bike now learn to pedal! You wanted this, now learn to deal with it. And this is exactly what Sophia learns to do.
The book also explores several aspects of creativity: Where does it come from? Is there a right or wrong way to create art? Who decides what is normal? How it art created? How did the master's of the Renaissance create art? How do contemporary artists create art?
Your book is set in Sonoma California, Philadelphia, and Florence. Have you ever been to these places?
Yes to all three! Originally I am from the mid-west, but currently, live in the Bay area just outside of San Francisco. Sonoma California is one of my favorite destination spots here in Northern California. If I can't live in Italy, being a hop skip and a jump from the vineyards and mountains of Sonoma is the next best thing. As a young girl, I also spent my summers on my grandmother's farm in New Jersey, about an hour away from Philadelphia so I know the area well. During college, I studied art and art history in Florence Italy and lived with an Italian family. It was during my time in Florence that I became enamoured with Renaissance art as well as the language. Since then I now travel frequently to Italy and have visited large and small cities up and down the boot. I have spent time in the Veneto, Puglia, la Basilicata, Le Marche, Umbria, Tuscany, Liguria, Lazio, Salento, Campania, Calabria, and Capri. I have also spent a lot of time with my language groups in Lucca, the charming little town that Sophia visits in "Dreaming Sophia" situated to the west of Florence and east of Pisa.
In your book, you tie in a lot of popular folk legends and cultural anecdotes. Which is your favorite?
I love whimsy and storytelling, so the local stories I learn when traveling in Italy continue to fascinate me. Every part of the country has a unique set of colorful legends based on fact and fiction. These are the stories that make Italian culture so rich and varied and I thought it important to weave some of these into Sophia's story. For example, I talk about the legend of the Merli (or how the blackbird turned black) as well as recount real stories about the Mud Angels (the young people who helped clean up Florence after the Arno's banks overflowed in 1966). I also explore a couple of anecdotes that Vasari wrote about in his Lives of the Artist, like the artistic rivalries that existed between Leonardo and Michelangelo and Brunelleschi and Ghiberti. But, I think my favorite stories are those I learned while living in Lucca. I find particularly fascinating the Legend of the Devil's Bridge as well as the story of the beautiful ghost Lucida Mansi who is said to haunt the walls of Lucca on the night of a full moon.
Why did you decide to write this book?
Dreaming Sophia is the result of writing the Studentessa Matta Blog. I began the blog six years ago to give myself a useful reason to write in Italian every day. I invited the world to correct my mistakes. I felt that was the only way I would hurdle the proverbial language learning wall and move forward toward fluency. What ensued surprised me. Not only did my Italian improve dramatically, I also discovered how much I love to write. I am a graphic designer, artist, and art historian. I have always expressed myself in imaginative ways. Writing the blog gave me an additional outlet to express myself creatively. The more I discovered about Italy through my travels and through reading daily journals and newspapers, the more I wanted to share what I was learning with my readers. More recently I have extended my creative writing to include scripting Matta Youtube videos, podcasts, and song lyrics. I find I enjoy painting pictures with words, so writing a novel seemed the next step. Through fiction, I have found another way to communicate and express my feelings for a country that has robbed my heart AND which I have adopted and now call home.  
If you could put yourself as a character in your book, who would you be?
Dreaming Sophia is the result of many personal stories, observations, and events that have taken place in my life. They say the best way to write, is to base your story on the things that you know well. So, I would have to say the character's of Sophia and her mother, are loosely based on my life experiences. Like Sophia, I studied abroad in Florence. I am an artist and have a passion for art history. I too have experienced living with an Italian family, the ups and downs of learning the Italian language and like Sophia have dealt with a career crisis. Also, like Sophia, I too have turned many dreams into reality through creative visioning and hard work. In fact writing this book Dreaming Sophia helped me turn a long time fantasy of speaking with Sophia Loren into an actual meeting! Last March after her one-woman show in Las Vegas I was able to kiss her on both cheeks in the proper Italian fashion and tell her about my novel. What a thrill it was to see her smile at me and say to me: I believe in dreams, dreams become reality.
Book Trailer: