Book Description for Candidate for Murder :
It's election time in Spencer, Maryland, and the race for mayor is not a pretty one. In recent years, the small resort town has become divided between the local year-round residents who have enjoyed their rural way of life and the city dwellers moving into their mansions, taking over the town council, and proceeding to turn Deep Creek Lake into a closed gate community—complete with a host of regulations for everything from speed limits to clothes lines.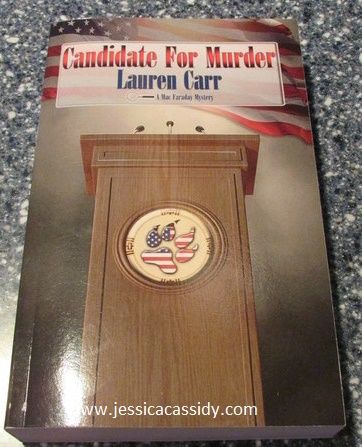 When the political parties force-feed two unsavory mayoral nominees on the town residents, Police Chief David O'Callaghan decides to make a statement—by nominating Gnarly, Mac Faraday's German shepherd, to run as mayor of Spencer!
What starts out as a joke turns into a disaster when overnight Gnarly becomes the front runner—at which point his political enemies take a page straight out of Politics 101. What do you do when you're behind in a race? Dig up dirt on the front runner, of course.
Seemingly, someone is not content to rest with simply embarrassing the front runner by publicizing his dishonorable discharge from the United States Army, but to throw in a murder for good measure. With murder on the ballot, Mac Faraday and the gang—including old friends from past cases—dive in to clear Gnarly's name, catch a killer, and save Spencer!
I rated this book 5 *****'s 
The perfect book to read to give us an insight of the coming election
Ms. Lauren Carr nailed this book again. As an avid reader of her stories, Candidate For Murder is a very exciting book to lay on the couch and read it. It is a perfect book to read to give us an insight of the coming election.
There are many characters of the books that I adore. Aside from Gnarly, the bravest German shepherd dog I adore, Dallas is my all time favorite of the story. This girl is not only beautiful, who is also has a gold spoons while growing up but very feisty. She cracks me up as well. A funny, beautiful and witty girl who is not afraid to dig some dirt about the candidate.
This book is very exciting, suspense and above all an eye-opener for us readers to select the right candidates that will serve the people in honesty and integrity. I cannot put this book down. Though sometimes, it feels right on my face during the late night when am reading it because I cannot put it down.
Disclosure:
I received the paperback copy of the book from being a member of ireadbooktours in exchange of my honest review.
Buy the book:   Amazon
Author's Bio:
Lauren Carr is the international best-selling author of the Mac Faraday, Lovers in Crime, and Thorny Rose Mysteries. The twelfth installment in the Mac Faraday Mystery series, Candidate for Murder will be released June 2016.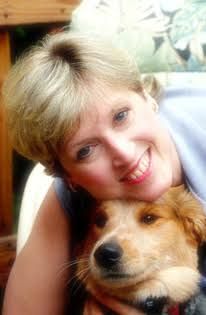 Lauren is a popular speaker who has made appearances at schools, youth groups, and on author panels at conventions. She lives with her husband, son, and four dogs (including the real Gnarly) on a mountain in Harpers Ferry, WV.
Connect with Lauren: Website  ~  Twitter  ~  Facebook
Book Trailer: