A BLIND GIRL'S TERRIFYING "GIFT" ALLOWS HER TO REGAIN HER EYESIGHT–BUT ONLY AS SHE FERRIES THE RECENTLY DECEASED INTO THE AFTERLIFE.
Loreena Picket thinks she knows herself. A blind young woman who lives with her uncle, a reverend at a small-town church, she's a dutiful niece and talented pianist for the congregation.
But they're both hiding a terrible secret. Loreena can kill people with the touch of her hand.
While her uncle sees her as an angel of mercy, helping usher the terminally ill members of his flock into the afterlife, Loreena has her doubts.
Torn between doing her uncle's bidding and the allure of the fleeting moments when her eyesight returns on the journey to the other side, Loreena cooperates with her uncle until her troubled older brother returns to town. When she reveals her power by saving him from a local drug dealer, she is drawn into a sinister and dangerous world that will test the true nature of her talent and force her to consider how far she is willing to go to survive.
An exciting debut that crosses fantasy and literary fiction, Loreena's Gift is a thought-provoking meditation on life and death and what ultimately lies beyond this world.
I rated this book 5 *****'s 
The most unusual book I ever read
I am not a fan of paranormal but Loreena's gift is even better than that genre. Loreena will amaze you not only from her music talent but her extra ordinary gift.  I just wish that I have that gift myself especially that I am working in a nursing home. It would be amazing to help the residents stop their suffering and rest on peace. 
This book is beyond amazing. It is so good. I could not put it down the moment I start reading it. The author did a fantastic job on this book. I cannot wait to read more of her writings. 
The book is very suspense as well. Just like in the real world, bad people used Loreena's  gift to kill. She has no choice because she was trap. This book will blow your mind. This  gives me an opinion to check more books like this. 
Disclosure:
I received the paperback copy of the book in exchange of my honest review. 
Buy the Book:  Amazon  ~  Barnes & Noble  ~  Book Depository  ~  Chapters Indigo
Author's Bio:
Colleen M. Story writes imaginative fiction and is also a freelance writer, instructor, and motivational speaker specializing in creativity, productivity, and personal wellness. Her latest novel, "Loreena's Gift," was released with Dzanc Books April 12 2016.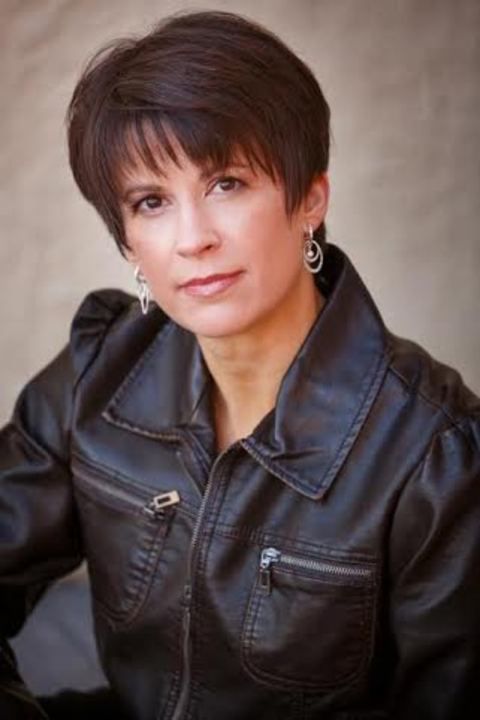 Her fantasy novel, "Rise of the Sidenah," is a North American Book Awards winner, and New Apple Book Awards Official Selection (Young Adult). She is the founder of Writing and Wellness (writingandwellness.com) a motivational site for writers and other creatives.
How did you do research for your book?
One of the fun things I did for Loreena's Gift was to take a motorcycle riding class. I had ridden a motorcycle only once before, when I was young and my cousin took me for a ride. I wanted to be a little more familiar with them, since many of the characters in Loreena's Gift belong to biker gangs.
I signed up for a class in my hometown. It took place over a period of three days—about a third of that was classroom work, and the rest of the time we spent practicing maneuvers in the parking lot. I was lucky enough to get a candy apple red Suzuki 250 and I had a blast learning how to ride it. By the time the class was done, I was maneuvering through cones, cornering, stopping short after accelerating fast, and a number of other things considered important when riding.
I passed the riding skills test, which meant all I had to do to get my endorsement was to take the written test at the DMV. I did that and passed and now I'm legal to ride whenever I want to. Unfortunately, I don't have a bike, so my riding career sort of ended there, but the experience was a lot of fun, and helped me feel more comfortable writing the biking scenes in the book.  
Which was the hardest character to write?
There is an undercover FBI agent in the biker gang, and I found him to be the character most difficult to write because he's pretending to be someone he isn't. I had to present him as one of the members of the criminal biker gang at first, and then gradually reveal his true identity. It was sort of like writing two characters in one.
He also has split allegiances, which makes him a bit more complicated, as well. He wants to help Loreena, but his main goal is to take down the leader of the gang (Frank), which makes him look cold at times when he's really not.
In your book, you make a reference to a version of the afterlife in which a character is continually humiliated by an angry crowd. How did you come up with that idea?
In Loreena's Gift, I'm exploring the idea that the afterlife, much like the current life, is shaped by our beliefs, our personalities, and our points of view. In this case, the character was raised by a strict father, who often humiliated him. The character never got past that feeling of not being good enough, so he ends up working for this criminal biker gang leader and doing some pretty awful things. Underneath it all he's still this quivering boy who believes he's not good enough.
That mindset lands him in an afterlife where his belief continues to come true. Even when Loreena shows him that escape is within his grasp, he cannot see it. This was building on the idea that belief must come from inside the self, first, before it is reflected in the outside world—whether in this life or the next, perhaps?
Where do you write?
I have a favorite easy chair that sits by a window overlooking my back yard, which flows into a very large wheat field. That wheat field flows into more fields full of wheat or potatoes or corn. It's gorgeous in June when the stalks are tall and green and the wind makes them flow together like waves.
In the winter the field is a soft white blanket that rises and falls like someone just got up out of it and forgot to straighten it. The area is quiet and peaceful—perfect for writing—but I've been fortunate enough to see a lot of wildlife out that window, from deer to coyote to even moose and wolf.
What is your favorite travel spot?
I have a favorite spot along the Oregon Coast that I visit every year for a couple weeks. I love the ruggedness of the coast there, the black rocks and the fierce way the waves pound against them.
There are many lighthouses on that coast, too, each one with its own unique personality. I often do a lot of writing while I'm there, as the ocean air helps refresh the imagination, but I also love to go hiking through the forests nearby and I usually get in a bit of horseback riding on the beach.
Connect with the author:  Website  ~ Twitter