Book Description:
It's election time in Spencer, Maryland, and the race for mayor is not a pretty one. In recent years, the small resort town has become divided between the local year-round residents who have enjoyed their rural way of life and the city dwellers moving into their mansions, taking over the town council, and proceeding to turn Deep Creek Lake into a closed gate community—complete with a host of regulations for everything from speed limits to clothes lines.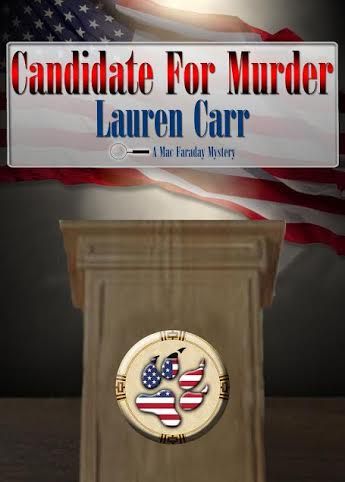 When the political parties force-feed two unsavory mayoral nominees on the town residents, Police Chief David O'Callaghan decides to make a statement—by nominating Gnarly, Mac Faraday's German shepherd, to run as mayor of Spencer!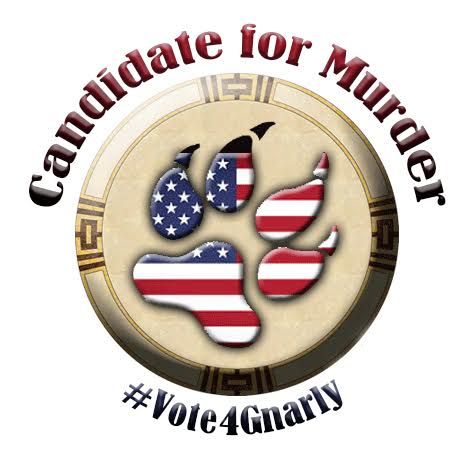 What starts out as a joke turns into a disaster when overnight Gnarly becomes the front runner—at which point his political enemies take a page straight out of Politics 101. What do you do when you're behind in a race? Dig up dirt on the front runner, of course.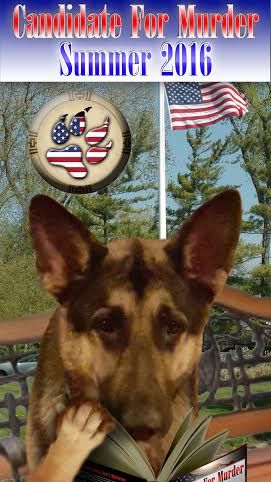 Seemingly, someone is not content to rest with simply embarrassing the front runner by publicizing his dishonorable discharge from the United States Army, but to throw in a murder for good measure. With murder on the ballot, Mac Faraday and the gang—including old friends from past cases—dive in to clear Gnarly's name, catch a killer, and save Spencer!
Author's Bio:
Lauren Carr is the international best-selling author of the Mac Faraday, Lovers in Crime, and Thorny Rose Mysteries. The twelfth installment in the Mac Faraday Mystery series, Candidate for Murder will be released June 2016.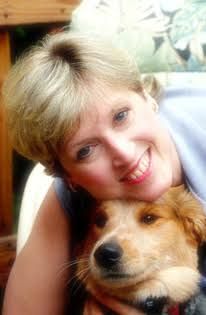 Lauren is a popular speaker who has made appearances at schools, youth groups, and on author panels at conventions. She lives with her husband, son, and four dogs (including the real Gnarly) on a mountain in Harpers Ferry, WV.
Connect with Lauren: Website  ~  Twitter  ~  Facebook
Lauren Carr Interview – Candidate for Murder
Interview Questions:
Why did you choose to write a series with a recurring character? Did you expect to keep Mac Faraday and his friends relatively unchanged from book to book, or do you purposely try to develop them over time?
I didn't set out to center my books around a recurring character, who has now grown into a group of recurring characters. It simply happened.
In 2010, when I released It's Murder, My Son, the first installment in the Mac Faraday Mysteries, Mac was a newly retired homicide detective who inherited two-hundred-seventy million dollars on the day the divorce from his cheating wife became final. He moved to Deep Creek Lake in western Maryland where he started a new life, solving mysteries instead of playing golf or tennis.
Honestly, I did not expect any of the characters to change from that first book. I grew up reading Agatha Christie and Earl Stanley Gardner. Perry Mason never changed. Yet, I find that my characters are doing a natural transformation, like real people, as the circumstances in their lives change and more of their quirks and idiosyncrasy come to light.
In Candidate for Murder, readers once again encounter Mac's daughter Jessica Faraday and her husband Murphy Thornton. These two characters met and married in Three Days to Forever. They were newlyweds in Kill and Run, the first Thorny Rose mystery. In Candidate for Murder, they have been married for several months. Now, they are less lovey-dovey as they work on some minor marital differences—like what to do with Nigel. Readers—Wait until you meet Nigel! No, he is not a dog!
How would you categorize your books? (Or, into what genre would you place your books?) Examples might be … Suspense novel, Thriller, Cozy, Hard-boiled, Police Procedural, Paranormal. Cross-over. Do you find there are advantages/disadvantages to labeling it as such?
I started categorizing my books as "gritty cozies." But I find that they are moving more into a police procedural category.
What was your greatest challenge in writing

Candidate for Murder

?
Writing a murder mystery with a political backdrop without allowing it to come across as political messaging.
Politics is a hot issue button this year and I went into writing Candidate for Murder knowing that I was using a hot backdrop for this story. But, I'm fearless when it comes to a literary challenge. Good writers are like athletes. If you want to improve, you need to write every day, or your writing muscles will get weak. If you don't challenge yourself, then your writing will get stale, not just for you doing the writing, but for your readers.
Over the last seven years, our country has become so divided, especially in this election year. The purpose of Candidate for Murder is not to tell readers this is how it should be and this party is right and that one is wrong. Readers will notice that some of the political "guest" characters bear similarities to people who are currently in the news, but I make a point to never attach either candidate to a specific party or political viewpoint. Rather, I explore characters and the use of politics to achieve personal agendas.  
Readers will see some similarities between local issues addressed during the campaign to national issues. Of course, a mystery with a political backdrop would not be complete without poking fun at how the media handles things.
I'm not a political person—really I'm not. I'm a registered independent!
However, I'm a writer and as a writer, I sit back and observe and ask, "What if …."
That's what I did with Candidate for Murder. I looked at how things are in our country right now. How could I not? It's right there in my face. As a writer, I asked, "What if with so many people so angry, and so many people so unhappy with the current government, and neither political party nominating a candidate that the people want … a hero overflowing with integrity and character rose up to be put on the ballot—and that candidate was a dog?"
Candidate for Murder deals with the mayoral election in Spencer, a fictional small town set on Deep Creek Lake? How important is this setting to storyline?
The Mac Faraday Mysteries take place in Spencer, (a fictional town) set on Deep Creek Lake (a real lake) in western Maryland. This fictional small town ended up being perfect for Candidate for Murder. The election is a hotly contested race in a town that over the years has become divided. Sound similar? As it is explained in the opening chapters, Deep Creek Lake, a real lake located in western Maryland, is a resort area. Most of the lakeside residents, living in luxurious homes, are seasonal, coming in from Washington DC, Baltimore, and other areas. The year round residents are rural country folks, accustomed to a laid-back lifestyle. Yet, over the last several years, more and more of the seasonal big-city residents have moved in and infiltrated the local government and started imposing big-city regulations—upsetting the way of life for the town's original residents.
As a result, Spencer is a town divided between the quiet country folks who have grown up in Spencer, and the big-city folks who want to change their town to reflect the urban area from which they have come.
I have a few friends who do live in and around Deep Creek Lake who have told me that this situation is a real brewing conflict. So, even though Spencer is fictional, the atmosphere is real.
What is next for you? (Could be book-related or something personal … or both!)
By the end of summer, September 2016, Lovers in Crime will see the third installment for that series, Killer in the Band. Fans of the Lovers in Crime and the Thorny Rose Mysteries will get to know more about Joshua Thornton Jr (J.J.), Murphy's identical twin brother and Joshua Thornton's eldest son.
J.J. has graduated at the top of his class from law school and is returning home to spend the summer studying for the bar exam. However, to the Thornton's shock and dismay, J.J. decides to move in with Suellen Russell, a lovely widow twice his age. The move brings long buried tensions between the father and son to the surface. When a brutal killer strikes, the father and son must set all differences aside to solve the crime before J.J. ends up in the crosshairs of a murderer.
In November, fans of the Thorny Rose Mysteries will see the second installment for that series, A Fine Year for Murder.
Watch the trailer here