Shivers & Signposts: The Journey Continues is Len Richman's second exploration of a life measured out by a distinct rhythm of his own devising. Picking up where his first memoir, Raindrops Glimpses Moments: An Unconventional Memoir of an Unplanned Journey, left off, Richman shows in Shivers & Signposts that he still has much to do, and much to say.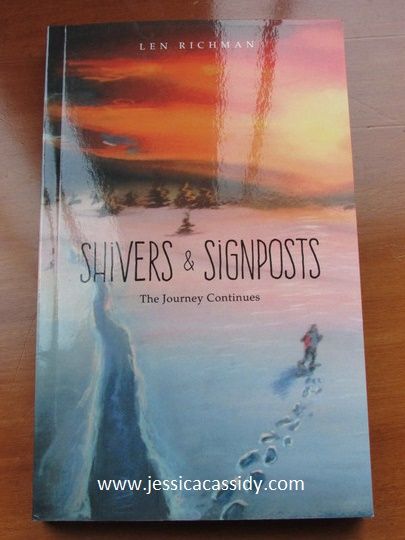 Richman attacks life with uncommon vigour. Never motionless, he moves forwards – and sometimes backwards – suffusing each manoeuvre with unique energy…vitality and constant evolution.
Shivers at the thought of growing old, of becoming stale…occasional alienation and loneliness, Richman, is driven onwards by "a pressing need to redefine and redirect his innermost self", a self that he continually re-evaluates through the lens of modern technology, literature, theatre and film.
These are the signposts that guide him through his fascinating quest for renewal of spirit and self…Let us hear his decisive commentary on modern social and cultural mores, his unapologetic tackling of issues from racism to materialism to present-day psychoanalysis. Let us listen to the music of Richman's own Love Song, about the love of a life well-lived – and still well-worth living. Let us be challenged, through Richman's examination of his own life, to ask of ourselves: How should we presume?
From the "Introduction" by Stuart Lubarsky, M.D.
I rated this book 4 ****'s 
Experienced taught us to be us
I LOVED to read real stories. There is something so special to learn more about the authors if the book is based in real story. Shivers & Signposts taught us experienced that the author shared about his past life and who become today. I always LOVED to learn the humble beginnings. It is uplifting to read and learn from their experienced.
This book is different from the books that I usually read but I still enjoyed my moment while reading Shivers & Signposts. It is a short story but full of knowledge that we can apply in our daily life. It is also gives us motivation to achieve our goals and dreams in life. This is one reason that I LOVED reading real story. I hope you get a chance to read this short but amazing book.
​Buy the book:   Amazon   Barnes & Noble
Author's Bio:
Len Richman has a long history with the Thomas More Institute of Montreal: student, course designer/ leader, Board of Directors member, and Chair of the Accreditation Committee.
He holds a teaching certificate from McGill University's MacDonald College; a B.A. from the University of Montreal (Literature); an M.A. in education from Concordia University (Outdoor Education), and a post-graduate Comprehensive Certificate from TMI (Culture and Identity Studies.)
Travel, work and field background continue in parts of Asia, Europe, Latin America, the Middle East, South Pacific, and Canada's northern communities. An educator in the areas of literature, wilderness/ outdoor pursuits, adult learning programs, international and multi-cultural studies for decades, a "redirection" of interests after 60 resulted in his becoming engaged in the performing arts: acting, directing, producing and writing. He is presently associated with Quebec Drama Federation (QDF), Black Theatre Workshop (BTW), Advisory Board of Pointe Claire Library, English Language Arts Network (ELAN), Quebec Writers' Federation (QDF), Playwrights' Guild of Canada (PGC), and Alliance of Canadian Cinéma Télévision & Radio Artists (ACTRA).
Born, bred and residing in and around Montreal (his favourite city next to New York, Prague, Budapest, and Dawson City, Yukon), he and his wife have three sons who have provided almost "free entertainment" with six grandsons and two "bonus" granddaughters from six to twenty-six years of age. He hopes to maintain sharing his wondering and wandering from his previous book, Raindrops Glimpses Moments: An Unconventional Memoir of an Unplanned Journey, to the present Shivers and Signposts: The Journey Continues, and beyond.
Connect with the author:  Website
Interview with the author:
1: JESSICA: You state in your book that memoir writing "…is complicated with an array of motives, and has flourished from before and since the saints—Augustine, Theresa of Avila, Ignatius Loyola— to Rousseau to James Frey. The invention of the printing press heightened interest. Today, due to our culture of TV reality shows, blatant self-disclosure, the Internet, cell phone conversations and the blurring of, and disrespect for the privacy-public demarcation, the genre has become widespread, controversial, even confusing."  Why then did you commit yourself to this genre?
LEN: Some of my readers mentioned to me that this second book seemed to be a sequel, something I never really thought about. In retrospect, referring to the book: "I know memoirs vary in styles—confessional, therapeutic, scandalous, instructional, humorous—the list covers the spectrum of humanity. Raindrops Glimpses Moments was written in my 60s for my grandchildren to give them in maturity a partial view of inheritance beyond the material. If other readers found it of interest, that's okay."
2: JESSICA: Understood.  Why then the second book less than a decade later?
LEN: I believe awareness of the ageing process became more, let us say, "urgent" since the first book.  And so, "Shivers & Signposts: The Journey Continues in this present decade has allowed me to observe 'me' in the two dimensional world of words on paper, travelling from heart and mind. And I know too that the 'past' is interpreted subjectively in the "eye" (memory) of the beholder. Nevertheless, whatever reconstruction has taken place, the tributaries that flowed into the river of my life, the concatenation of events were, are, valid and shape my reality. If readers find it of interest, that's okay too."
3: JESSICA:  Have you thought about a trilogy?
4: LEN:  I have to smile at that question since it was posed by two reviewers:
"Can we look forward to another account in five years?" And, "Has he finally confronted and conquered his dragons, thus freeing himself from embarking on another journey?" Several readers were curious about a third book as well.
5: JESSICA:  And your response?
6:  LEN: So far, I answer by asking the question, "At this point in my life, what more can I have to say?" And then I remember that Herman Wouk wrote his last book of fiction when 97, and at 100, just published a memoir. Who knows how much more of one's journey remains? Carpe diem. Seize the day and go from there seems the best approach to measuring experience and productivity.
Disclosure:
I received the paperback copy of the book for read. My review is 100% honestly mine.