Sexy sleuths Madison and Fab race to uncover the truth behind a horrific crime… before a loved one pays the ultimate price.
Beautiful Tarpon Cove has everything you'd expect from a paradise retreat: Blue waters, white sand and … murder?
With deadly secrets and dark dealings brewing beneath the surface of Tarpon Cove, Madison and Fab are caught in a race against time to uncover the truth behind the grisly murder, which may only be the tip of the iceberg…
The eighth book in Deborah Brown's Paradise series, Swindled in Paradise will take you on a high-speed thrill ride through non-stop action, steamy romance, and dark intrigue, and leave you begging for more.
The Paradise series, are Florida Keys mysteries, "great as stand-alone reads, but they're like chips…you won't be able to devour just one!"
I rated this book 5 *****'s
The fight to protect your lover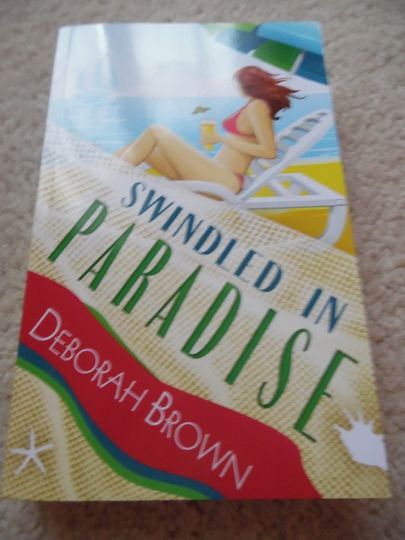 Madison and Fabiana both pretty and troubled makers ladies strike again in Ms. Deborah Brown's new book Swindled In Paradise. This time they are not only working but have the toughest job to protect the love of their life especially Didier who is accused of murder.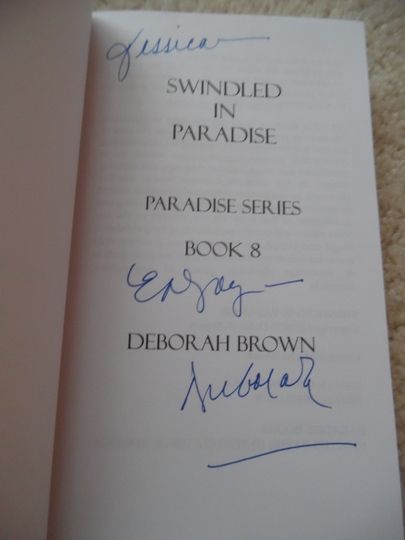 Can you imagine this two James Bond girls will do to solve the crime? Just like the other books of this series, Swindled In Paradise is fun to read. You will never stop reading until you reach the last page. This book is always funny to read aside from heart thumping stunts that these women always do.
Madison and Fabiana have no fear. They are even willing to sacrifice their life for friendship(they call each other's sister not by blood but by heart) and especially for their boyfriends. The book is full of stunts as always. You will never have a dull moment reading each chapters. The women are unstoppable.
Paradise series by Ms. Deborah Brown is my favorite series. Just like the other books from the other series, I highly recommend Swindled in Paradise to everyone who all but especially mystery.
Disclosure:
I received  a paperback copy of the book to review. All my thoughts and opinions are 100% honestly mine. 
Available to buy from…..
Amazon.com    Amazon.co.uk   Barnes and Noble
"Swindled in Paradise will take you on a high-speed ride through non-stop action adventure, romance, & suspense, & leave you begging for more." 
"LOVE this book series! Each new Paradise escapade surrounds you, and the characters… they unwittingly become your extended family."
"I absolutely love Madison & Fab! Their friendship and their adventures. These two can't stay away from trouble and I love it!"
Above reviews from Goodreads/Amazon
About the Author

I've been writing, in one way or another for as long as I can remember; writing poetry, short stories, a romance novel secretly stashed under the bed and sappy love letters. Fiction should be fun. I wanted to create the perfect beach book, to make the reader laugh, cry and cheer… and then run out and tell their friends about it.
My love of reading began when I was seven, the day I opened the cover of my first Mrs. Piggle Wiggle book. Mrs. P gave lessons to other children in how to behave and to me I learned to love the written word. I live with my family and demon children aka rescue cats in South Florida.
Find the author on the following sites….
Website  Facebook, Twitter  Pinterest  Google+  Goodreads Amazon Author pages
Also available in the Paradise Series
Follow the Book Tour
I received this book to review through Beck Valley Books Book Tours, all the opinions above are 100% my own.
NOW FOR THE AUTHOR'S GIVEAWAY
Win $25 Amazon.com Giftcard / Paypal Cash
(winners choice)
Open Worldwide
Ending on Tuesday 22nd December at 11.59pm EST
Enter Below and Good Luck !!