Someone Died… Now What? is a GPS for grieving. Corrie Sirota provides Guidance, Perspective and Support to help navigate through the grief process. Whether someone you love has died or someone you know is struggling with a loss, this book addresses many of the issues and questions that surface, providing concrete assistance on what to do immediately following a death, how to deal with feelings of sadness, anger and guilt, non-death losses and how to support grieving children. You will learn that grief is an ongoing process, and is as unique and individual as you are.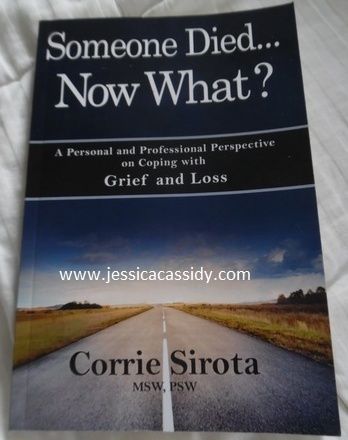 Link to Montreal Gazette:    
Article
I rated this book 5 *****'s 
One of the best self books I ever read
My Dad passed away 10 years ago. I am a Daddy's girl. Losing the best man you dearly LOVED for your life is the worst day of my life. It does not help that I lived half way around the world. Flying the next day after I received the call from my niece that their Grandpa went to heaven is the worst vacation of my life. I should be happy that I go home, right? but no! I cried most of the time during my 23 hours flight especially when the plane landed in the capital of the Philippines. Every passenger is cheering except me. One more flight and I will see my Dad again though no arms will surround me but instead of him lying inside the casket.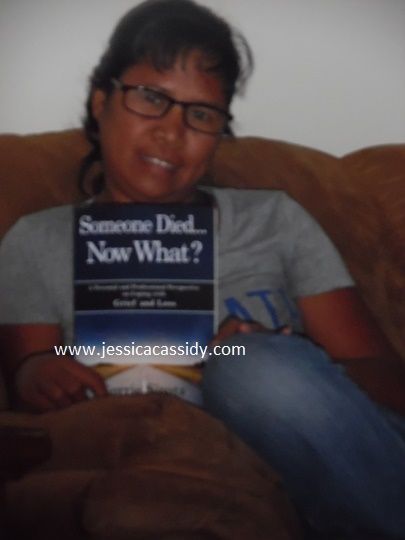 I know it has been 10 years but there are times I cried and sob and just be myself away from my family. This is the reason that I want to read this book. One of the best self books I ever read. I am glad that I read it. I read from morning to afternoon until the last page. This book really helps me a lot to understand how to grieve and continue my life. 
I LOVED that there is quote in every chapters. I know I have many favorites. There are so many helpful tips which I greatly appreciated. Reading this book gives me closure and that my Dad will always be my life wherever I am. I also LOVED reading testimonials from other people. It helps me a lot. 
Buy the book:    Amazon     Barnes & Noble
Author's Bio:
Corrie Sirota holds a Masters degree in Social Work as well as a Graduate Certificate in Loss and Bereavement from McGill University (Montreal) where she has been teaching as a lecturer in the School of Social Work for over 20 years. Corrie is a licensed psychotherapist who currently maintains a private practice specializing in Loss and Bereavement, Parenting issues and Relationship issues. She is a well-known lecturer who regularly presents at conferences and workshops, both locally and abroad. Working in the Montreal Community for over 2 decades, Corrie has developed numerous prevention and intervention programs for families, children and professionals, students and various community agencies as well as Day and Residential Camps.
Corrie has also written numerous articles and blog posts and is regularly interviewed on local radio, news and TV programs to consult on issues relating to loss and bereavement, Child Development and Parenting.
To learn more information about Corrie Sirota visit her website www.corriesirota.com.
1) There are many books out there about death and dying. What makes yours different?
A number of the literature related to death and dying are written from either a clinical perspective or a very personal perspective. Someone Died…Now What? contains both of those elements. I feel the personal piece helps readers relate to me on a human level and then the professional knowledge offers evidence based support rather than only my personal opinion. It's honest, it's real and genuine – modelled after the manner in which I practice.
2) In your book you state "Grief is a process, not an event. You don't get over it" why is that?
It has been my experience that those in mourning want to rush the grief in a desperate desire to feel better fast. I believe it is my obligation to help them understand that one doesn't "get over" grief, one learns to live with it. While seemingly harsh to hear, anyone grieving knows how true that statement is. Furthermore, understanding that one doesn't get over it can also help alleviate the fear that they will forget their loved one.
3) Do you have another profession besides writing?
Yes. I am involved in a number of different projects. I am a private practitioner, I am a seasoned workshop presenter, I facilitate groups on Widow support, Perinatal loss, Post Partum support and parenting. I am a sessional lecturer at McGill University in the School of Social Work. I am also the Program Manager at a 50+ centre for seniors in the West Island of Montreal.
4) Favorite travel spot?
Anywhere warm. That being said, my husband and I went to Hawaii to celebrate our 25th year anniversary. We travelled the Islands – Kauai was my favourite island – I was so overwhelmed with the beauty that I found myself crying everywhere I went!
5) Any hobbies? or Name a quirky thing you like to do:
My hobby is working out/training at a local gym. This is also my saviour, my happy place, my sanity. When I work out it helps ground me. Albeit sometimes challenging to fit into my schedule – it is an essential component.
Connect with the author:    Website    Twitter    Facebook

Disclosure:
I received the book for free from iRead Book Tours in exchange of my honest opinions. I did not receive any compensation.