Book Description for Kill and Run:
Five women with seemingly nothing in common are found brutally murdered in a townhome outside Washington, DC. Among the many questions surrounding the massacre is what had brought these apparent strangers together only to be killed.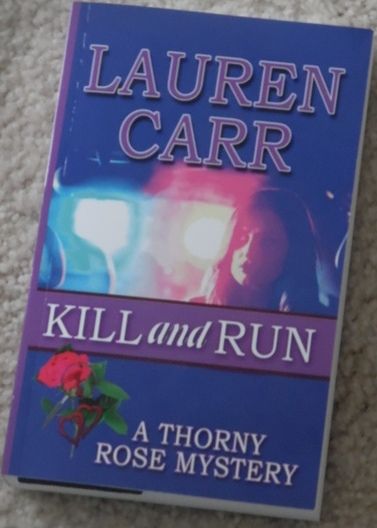 Taking on his first official murder case, Lieutenant Murphy Thornton, USN, believes that if he can uncover the thread connecting the victims, then he can find their murderer.
The case takes an unexpected turn when Murphy discovers that one of the victims has a connection to his stepmother, Homicide Detective Cameron Gates. One wintry night, over a dozen years before, her first husband, a Pennsylvania State trooper, had been run down while working a night shift on the turnpike.
In this first installment of the Thorny Rose Mysteries, the Lovers in Crime join newlyweds Lieutenant Murphy Thornton and Jessica Faraday to sift through a web of lies and cover-ups. Together, can the detectives of the Thorny Rose uncover the truth without falling victim to a cunning killer?
Can I rate this book 10 **********'s?
it is nerve-racking and flipping exciting pages to read
Oh Ms. Lauren Carr made my heart pumping so fast again with another amazing books of her. I feel bad that I read this book second. I am missing some stories and important part from the first book I read. I am glad that I catch up quick with the story.
Kill and Run is a nerve-racking and flipping exciting pages to read. It is one of those nights again for me where I cannot put the book down but I have to and catch up some zzzzz. This book is another big hit for me from the author. I need to catch up reading some of her books. She is one great author. I LOVED this story. It is suspense us usual and you really glued into the story. It is so good from the first chapter to the last chapter.
I am so excited to find out who is the killer. It is so mysterious. The story is sweet, funny and most of all full of twists and turns that you do not want to take a break from reading. I highly recommend all Ms. Lauren Carr's book. She is amazing and am a new fan. This book should more than 5 stars and you should grab a copy of yourself too. You will not be disappointed. 
Author's Bio:
Lauren Carr is the international best-selling author of the Mac Faraday Mysteries, which takes place in Deep Creek Lake, Maryland. Open Season for Murder is the tenth installment in the Mac Faraday Mystery series.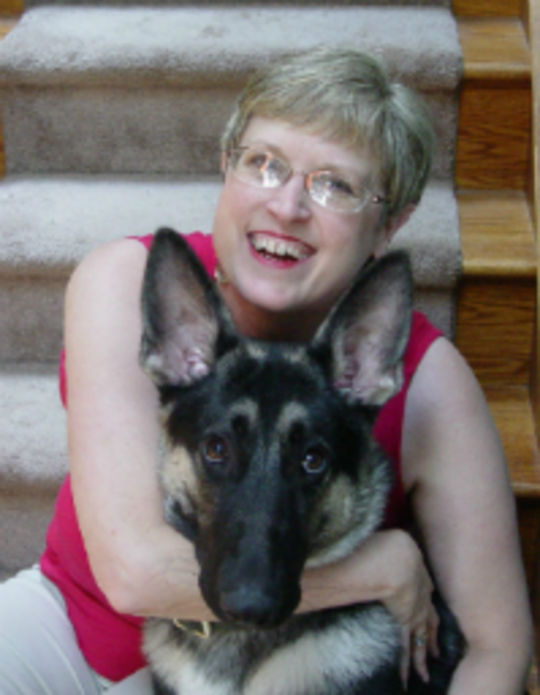 In addition to her series set on Deep Creek Lake, Lauren Carr has also written the Lovers in Crime Mysteries, which features prosecutor Joshua Thornton with homicide detective Cameron Gates, who were introduced in Shades of Murder, the third book in the Mac Faraday Mysteries. They also make an appearance in The Lady Who Cried Murder.
Three Days to Forever introduced Lauren Carr's latest series detectives, Murphy Thornton and Jessica Faraday in the Thorny Rose Mysteries. Look for Kill and Run, the first installment in this series, to be released September 1, 2015.
The owner of Acorn Book Services, Lauren is also a publishing manager, consultant, editor, cover and layout designer, and marketing agent for independent authors. Visit Acorn Book Services' website for more information.
Lauren is a popular speaker who has made appearances at schools, youth groups, and on author panels at conventions. She also passes on what she has learned in her years of writing and publishing by conducting workshops and teaching in community education classes.
She lives with her husband, son, and three dogs on a mountain in Harpers Ferry, WV.
Connect with the author:   Website  ~  Twitter  ~   Facebook
Author Interview Number Four
By Lauren Carr
If you could go back in time, what period and where would you go?
Oh, man! Right off hand, first gut reaction, I say Texas during the days of wild west. Simply because I love horses and animals and I would want to live on a ranch and go horseback riding every day. But then, that would be before the days of indoor plumbing, which means I would not have my whirlpool tub and men would smell like body odor. So let me think about that.
What is your favorite travel spot?
LC: Anywhere a cruise ship can take me! Finally, after years of talking about it, I went on a cruise this summer to the Bahamas and now I am hooked. Sitting back, being waited on hand and foot—it was heaven!
What is your favorite dessert?
LC: Cheesecake Factory Tuxedo cheesecake or if that is not available, chocolate lava cake with a scoop of vanilla ice cream. Actually, anything that includes chocolate makes my top ten dessert list.
If you were stuck on a dessert island, what three books would you want with you?
LC: Robinson Crusoe by Daniel Defoe for inspiration.
SAS Survival Handbook, Third Edition: The Ultimate Guide to Surviving Anywhere by John "Lofty" Wiseman for tips on how to make the most out of this experience.
The Holy Bible.  Always good to have.
What is the most courageous thing you've ever done?
Write a book and allow it to be made public for readers to read.
What's next for Lauren Carr?
LC: Look for Cancelled Vows this winter. In the next Mac Faraday Mystery, David O'Callaghan's wedding plans hit a huge snag when he discovers he is already married to an old girlfriend! With less than a week to his wedding day, David, Mac, and Gnarly go to New York City to have the marriage dissolved—only to end up in the middle of a murder mystery.
As for Murphy and Jessica of the Thorny Rose, sorry, readers, but the next Thorny Rose Mystery is at least a year away. I'm now working on three series! However, readers who fall in love with Jessica and Murphy should be on the lookout for the next Lovers in Crime Mystery, in which they will make a featured appearance. Murphy and Jessica rush to Chester, WV, when J.J., Murphy's twin brother, disappears after his girlfriend's murder. This mystery will be released in Spring 2015.

Disclosure:
I received the book for free from iRead Book Tours in exchange of my honest opinions. I did not receive any compensation.