Ms. Rachelle Ayala is gifting an e-book copy of her book Claiming Carlos for all my friends that wants to read this amazing book. All she asks is you leave your honest reviews within a week after reading Claiming Carlos in Amazon, Goodreads or an extra in Barnes and Noble if you want.
Book Description
Choco Sanchez is stuck in a rut. She's never hit a softball and has been friends forever with Carlos Lopez, the head cook at her family's Filipino restaurant. When flashy restaurant consultant Johnny Dee hits her with a pitch, she falls head over heels and gets a makeover.
Carlos Lopez is not about to lose one for the home team. Johnny launches a full scale change on the menu, and Carlos sends him straight into the dumpster. Claiming Choco's heart proves more difficult, especially when her secrets threaten to doom their love. But never underestimate a man who can cook hot, spicy, and steamy, and we ain't talking just food.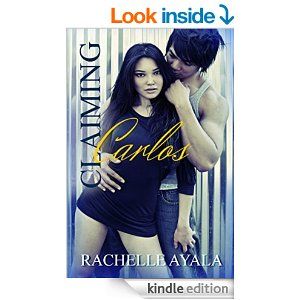 I am just returning Ms.
Rachelle Ayala
a  favor to help her out. She is one kind author whom I get to know more. I hope to meet her in person someday. You can leave me a comment if you want to read the book for free. I loved this book so very much. I even have signed paperbacks from her other books. This book has a beautiful story. I hope that you get the chance to read it.