I remember those days just husband and I and no kids involve. Those are the fun days and moments we have as a couple. Intimacy is just awesome. I really miss those intimate moments we had. Now that we are having two kids, finding the perfect moment to be intimate is not easy. My husband has a crazy schedule at work. He needs his sleep the most as his job is very critical. We seldom see each other because of his work schedules. I am dead tired after taking care of the kids and all the household chores. All I need is my sleep.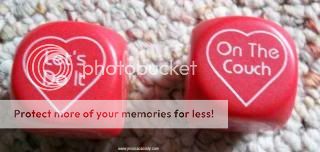 I found this roll dice in our neighborhood pharmacy in the clearance section. This is perfect for Valentines day. You can it too with normal occasions. These dice have the cutest messages that will help me and my husband spice up our intimacy. The messages are really cute, fun and flirty. How I wish that we can play this together and enjoy the moment with each other.
How about you? Do you like to play fun and flirty games with your husband? How do you spice up your intimacy?